Yesterday VW announced prices for the Scirocco and Golf R models. The surprising thing, for me at least, was that the Golf is the more expensive, more powerful, four-wheel drive version. The Scirocco seems quite reasonably priced at £26,945 whilst the Golf is nearly £30,000 which seems somewhat expensive but I'm sure Volkswagen knows what it is doing.
What puzzles me is why, if front-wheel drive and 'XDS' electronic traction control is enough for the 252bhp coupé, the hatchback with only 14bhp more (a 5.56% increase) needs to send power to all four wheels. I'd have given both models the same power and the ability to send power to the back wheels.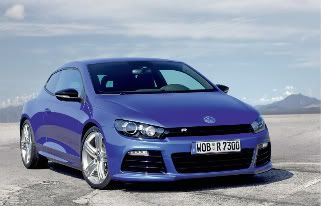 Just one thought remains, is Volkswagen planning an even more powerful, four-wheel drive Scirocco? How about a 300bhp, six-cylinder coupé? Well, it is nice to imagine.