To many people I suspect Newport Pagnell is no more than a service station on the M1 motorway. To the car enthusiast Newport Pagnell is also the home of Aston Martin but as of 19th July it is no longer a car factory. The last Vanquish was driven off the production line in a ceremony attended by local dignitaries, Aston owners and employees. For the foreseeable future all Astons will be built at the purpose built facility at Gaydon in Warwickshire.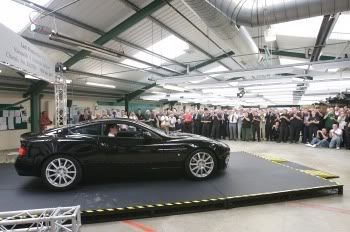 There is no cause for sadness, for one thing the Newport Pagnell site has been retained as a centre for servicing and restoring older cars. And, like most companies with a long history, Aston Martin has had more than one factory. The original factory was at Feltham in Middlesex (I think) and it was in 1953 that tractor magnate and then owner of Aston bought the Newport Pagnell site with full production starting in 1958.
The closure does mean that both of the car factories I've visited have closed (the other was Jaguar's Browns Lane plant). It was back when the DB7 was current but before the Virage and Vantage had been phased out. I was given a tour by the late Roger Stowers, the company historian and archivist. Whatever you thought of the old V-series cars you had to respect the craftsmanship and love with which they were assembled. Who could believe the current, thoroughly modern Astons are any relation to the magnificent old dinosaurs the company used to make? I wonder if the Gaydon factory will enjoy 50 years of productivity.