Every year the city of Coventry celebrates its association with the motor industry with a major classic car event. It is probably unique amongst classic car shows for two reasons; 1- participants have to pay an entry fee while members of the public can view for free; and 2- this is more than just neatly polished old cars in a park where people admire them, there is a sedate run through the Warwickshire countryside.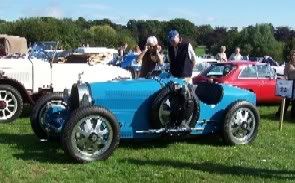 This year I knew someone who was taking part so it seemed like the perfect excuse to see what was going on. According to the web site some 540 vehicles took part including commercial vehicles, a couple of Green Goddess fire engines, lots of motorcycles and, of course, plenty of cars. The oldest vehicle on the run was a 1902 Wolseley and the newest a charity-sponsored Lexus IS200 driven by local news presenter Ashley Blake. Famous names like Rolls-Royce, Bentley and Bugatti were represented along side the familiar, household names of Triumph, Austin, Hillman, Ford, Volkswagen and many more.
I was invited to join in, travelling in the comfortable leather passenger seat of a Series 2 Daimler Double Six. There was plenty to see, lots of villages on the route had put up bunting and young and old alike were out waving at the passing cars. The organisers also split the run into two groups, both following the same route but in opposite directions so participants could see and wave to one another. It was great fun and I hope I can take part in an old car of my own one day.