Last year I wanted to go to the annual Society of Motor Manufacturers and Traders (SMMT) test day but I was too slow in applying. This year I was better informed and got my name on the list in plenty of time. As well as providing the opportunity to drive lots of different cars it is a superb opportunity to meet the press officers and press fleet managers and other journalists. I'm sure I could have made more of the opportunities to make contacts but I'm quite pleased that I have made some new contacts.
My day's driving started with a Jaguar XK8, it was supposed to be an XKR but I wasn't about to complain. Without a doubt this is a magnificent car, smooth, refined and surefooted. It was a fine way to learn the curves of the Millbrook hill test route and to get a feel for driving round the high-speed bowl. Those test tracks do a good job of replicating country road and motorway driving respectively. There was also a "City Course", which didn't feel much like a city but is laid out in a series of tight curves with a couple of speed humps for good measure. I had great fun whizzing round in a couple of Fiat 500s – I fear I may have upset the man from Fiat by saying that I preferred the cheaper more basic model. More than any other car I tested I could see myself actually buying a 500 for my own transport.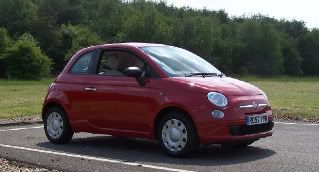 The other interesting pastime of the day was to see what was in demand. Bentley, for example, had 4 cars and by lunchtime all the time slots were fully booked. Nissan was taken aback by the popularity of the fuel-cell concept vehicle and so was Audi for the R8 and RS6 Avant. According to the list of vehicles there were 2 RS6s but only one actually appeared to be in use. The Nissan and Audis were the only cars I felt I missed out by not trying – maybe next year.