I don't lay claim to any great talent as a photographer. However, I do try to find interesting details as it can be boring taking essentially the same pictures over and over again.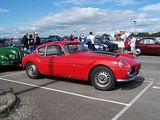 This subject is the one-off short-chassis Bristol 406 with coachwork by Zagato. On an aesthetic level I'm not sure the shape works, the front and back ends don't quite gel but it is an interesting sighting.
The interior looks very spartan but it is certainly purposeful.