Not driven, but a friend has just bought a new DS3 and she's thrilled with it. I couldn't resist having a look and it does seem quite nice.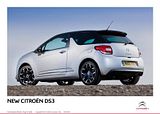 This isn't it but it is very similar.
I still don't know what the DS3 has to do with Citroen's classic DS but it seemed like a perfect excuse to post some pictures of an utterly gorgeous Citroen DS, which I took this summer.
Unfortunately I couldn't get a picture of the whole car as it was attracting such a crowd. Given that it looks as good as new (or better) I'd say the attention was justified.