Unless you actively avoid motoring news stories you will probably have noticed that the Geneva Motor Show is nearly upon us. Electric and hybrid vehicles seem to be the big news with just about every manufacturer getting in on the act.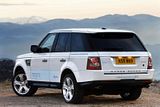 Land Rover seems determined to confuse 4x4-hating environmentalists. The Range_e is a plug-in hybrid turbodiesel with official CO2 emissions of 89g/km – that's better than a VW Polo Bluemotion. On a full charge there is supposed to be sufficient capacity for 20 miles. Land Rover describes the Range_e as a development vehicle but it must point to a future production model.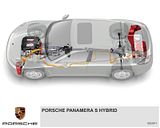 Some manufacturers have had hybrid SUVs for a while, Porsche has a hybrid Cayenne and has announced a hybrid Panamera. The 159g/km CO2 figure isn't as impressive as Land Rover's but still represents an improvement over the standard car (218g/km for a V6 auto Panamera). The most intriguing concept of Porsche's hybrids is the 'Sailing' feature, another word for coasting that switches the engine off when it is not required at speeds up to 103mph.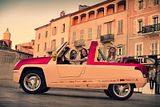 A more light-hearted take on the electric vehicle comes from Swiss company Rinspeed. The BamBoo looks like a latter-day Citroen Mehari and comes with a computer display on the front. Some of its features sound wilfully odd, like the inflatable roof and rear seats. The use of bamboo fibres in the cloth of the seats is a nice touch and I like the use of braided plastics for the glovebox lid – it seems like a creative and original use of materials.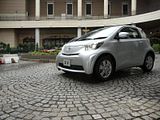 If Rinspeed is frivolous Toyota has always treated hybrids seriously. The Japanese giant will showcase its various electric, plug-in hybrid and fuel cell technologies. There is a Prius+ which is a seven-seat version of the company's famous hybrid; a Yaris hybrid concept that previews a production model; and the EV, an electric version of the Toyota iQ.
Coincidentally, I've had my own taste of hybrid motoring this week. It was time for my car to have its cam-belt replaced, a main dealer only job, and I was offered a loan car. This turned out to be a Honda Insight. It was very smooth, refined and easy to drive with very light controls. But it also felt heavy, although it isn't, partly because it isn't particularly quick and also because of the way it feels on twisting roads. For the type of person who buys an Insight a fun driving experience probably isn't high on the list of priorities. The limited rear visibility, which makes reverse parking a chore, will probably annoy more people – parking sensors should be standard. My greatest annoyance was the eco driving prompt which 'rewards' economical driving by making leaves appear on digital plants in the instrument cluster. Now I may not be an expert on plants but I thought it was carbon dioxide that made them grow.