Last week it was all about the Geneva Motor Show with a heavy green tint. This week, to restore some balance, it is time to celebrate the fast, powerful and (more or less) British.
First came the news of a rejuvenated AC. In the tradition of the small sports car manufacturer AC seems to alternate between periods of great activity and times of total obscurity. Cars like the ME and the modern Ace have been released with a fanfare and then nothing much happens for a decade or so. Now AC is in the news again with a new "Cobra".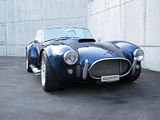 Not that it is called Cobra, or built in Thames Ditton (or Texas or Brooklands) and it doesn't even have a Ford V8. The substitution of a Chevrolet V8 from the Corvette is in a way appropriate. Back in the mists of time the Cobra was originally intended to have the Chevrolet motor but General Motors would not play ball. Whether purists will accept a German made, Chevrolet powered AC remains to be seen.
Although everyone seems to want the look of the 7 litre Cobra - with the wide, curvaceous wheelarches – I prefer the less bulbous look of the earlier 260/289 small block cars. Maybe the range of classic AC cars to be produced at Brooklands will revive the more subtle shape.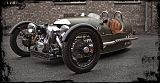 Compared with the big, brash AC to the new Morgan shows just how varied the British sports car can be. The new Three Wheeler represents the Malvern Link company returning to its roots. It is a light, low, simple, three wheel design with a V-twin engine exposed to the elements at the very front, a cabin that looks snug and not much else. The only thing I don't like is the use of a car gearbox (from Mazda). It is probably a very good gearbox but I think a motorcycle gearbox would be even nicer to use – but it wouldn't have a reverse gear which would probably be a serious drawback. Anyway, something as low, light and exposed as the Morgan should be enormous fun. I hope, one day, I can find out for myself.