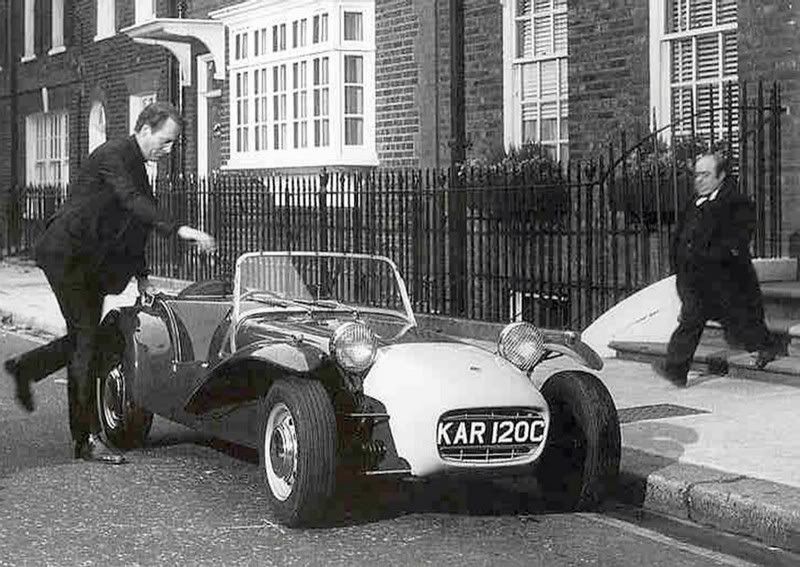 The Caterham is an uncompromising driver's tool. It represents the reduction of the motorcar to the barest essentials in the pursuit of performance. The 7 is derived from the Lotus Super 7 which made its debut in 1961. Lotus stopped production of the classic S3 Super 7 in 1970 in favour of the restyled S4, which lasted until 1973. Caterham cars acquired the rights to the 7 from Lotus and started making the S4 but within a year reverted to the S3 design. Older readers may recognise the S3 from the cult TV series The Prisoner.
With no excess weight to move the Caterham is impressively quick. The one I drove was the HPC, powered by a Vauxhall 2-litre DOHC 16 valve engine. It is difficult to say how fast as the speedo was either defective or obscured (I forget which). The gears were incredibly close; I remember hitting the red line in first, changing up to second and the revs barely dropped, third was little better and if I hadn't nearly run out of road I'd have tried 4th.
There was never any need for high gears nor high speeds as I was driving in an informal auto test, wiggling and swinging round a tight course. It was great fun, and a good introduction to what the Caterham can do. There is no better way to understand understeer than to see the wheels turning (how many new cars allow you to see the front wheels from the driver's seat?) and the car running wide; no better way to appreciate oversteer than by looking past the side of the windscreen because the way the car is going is not the direction in which it is pointing.
My abiding impression, however, was less than favourable; the Seven isn't actually that nice to drive. I like controls that feel smooth, well oiled and – ideally – light in their actions. Cars like that are good to drive even when going slowly, taking pleasure in driving as smoothly as possible. In the Seven the controls are heavy and lifeless, it is all hard work and if you're not balancing the car on the limit of grip then it isn't much fun at all. Maybe I'm too fond of the easy life, or maybe I need to give the Seven another go but I don't think it is for me.