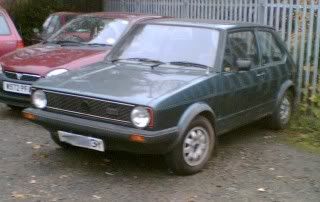 Last week I parked next to this Mk1 VW Golf GTI. A long time had passed since I last saw a Mk1 Golf and it was good to be reminded how neat, how compact and how smart Giugiaro's design still looks.
All sorts of ideas went through my mind about proclaiming the GTI as a sensation in its day. Reading through my old magazines the Golf GTI actually received relatively few column inches. It seems no-one thought the GTI would be a phenomenon.
What does seem clear is that the VW profited from the circumstances surrounding its development. The VW was designed to be as light as possible, so the GTI weighed in at 750kg or so (to put that in perspective consider the current Golf GTI is 1300kg). It was also the time when fuel injection became cheap enough; so a relatively small engine could give good performance without the problems of highly-tuned engines relying on carburettors. The Golf GTI also arrived at a time when there weren't many affordable performance cars.