Back in my student days, just over 10 years ago, I was a frequent visitor to the Prescott hill-climb course in Gloucestershire. If you want to watch motor sport at close quarters and don't mind that only one car is on the course at a time I would recommend it to you. It was a perfect venue for watching old cars being driven because you were so much closer to the sights, sounds and smells and you could see the drivers working hard at the steering and gear lever.
The cars that left the most lasting impressions were the mid-engined Formula Junior cars from the 1950s with motorcycle engines; the 2-cylinder 3-wheel Morgan Aeros; and the Bugattis. Prescott is home of the Bugatti Owners Club, which probably accounts for the fact that such rare cars were a common sight. Over the years I have seen a good selection of Bugattis from stark racers like the Type-35 to luxurious touring cars like the Type-57. One model I have not seen is the Type-41 Royale.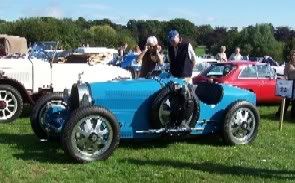 (Bugatti T35)
Only six Royales were ever made and only 3 were sold because of the economic climate in the early 1930s. At 21 feet long and 7 feet wide it is a giant among motorcars. Some years back the Donnington Collection commissioned a faithful recreation of a Royale and this will be on display at the classic motor show.
"The car is so big that it requires a specialist moving company even to bring it into the hall" said Classic & Sports Car's publishing director Stuart Forrest. "We've driven the car in our latest issue, and we were delighted to have the opportunity to work with the Donington Collection, where the car can normally be seen, to display it on our stand at the Classic Motor Show. It is an incredible car to see, and there are so few of these vehicles in the world that the chance to do so at the NEC this weekend is not to be missed."
The show runs from Friday 9th to Sunday 11th November with tickets available on the door. For information on the Classic Motor Show, visit
www.necclassicmotorshow.com
.