It was going to be an epic post to review all the cars I drove in 2007. For a blog format this didn't seem appropriate so I decised to break it down into several installments. Last time I looked at a couple of Vauxhalls. This time it is an unlikely pairing of Skoda and MG.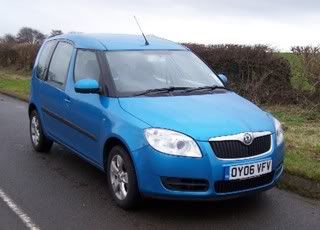 The
Skoda Roomster 1.4
was actually the first new car of the year. I wanted to like it; I admired the unconventional styling (particularly in the vivid blue paint of the test car) and the refreshingly colourful interior. Neither of those things could really be enjoyed while I was driving. What sparked my frustration was the way the door pillars blocked the view – a common problem with new cars. After that I noticed that there was more noise that I expected - at speed the engine felt as though it was revving its head off. On uneven roads the Roomster bobbed around as though the suspension couldn't cope. It should be said, however, that neither the ride nor the noise levels were any worse than in the Corsa.
The Skoda's problem was that it was too tall, a criticism that couldn't be levelled at the most entertaining car of the year; a
1972 MG Midget
. Something so simple and even downright crude in places surely has no right to be such fun but it was refreshing to be able to look under a bonnet and be able to identify all the components within. It was great to have something so straightforward that I could fix it (or help to fix it) in someone's back garden with about 3 tools. On the road it was sheer delight, for one accustomed to automatics getting used to the short-travel clutch was difficult. But the clutch pedal was an object lesson for all to copy – why does a clutch need more than an inch or two of movement? The gear lever was a delightful, mechanical, flick-switch affair; the engine was coarse but very charming; the brakes needed a big push (no servo?). The steering was pure delight, light and direct. Driving the Midget required skill and understanding but there was no substitute for the pleasure gained from getting it right.
To be continued ...