This is the penultimate installment. The Saab 9-5 is one of the longest running models on the market. Maybe that is why the best version is so good - Saab have had years to carry out fine tuning.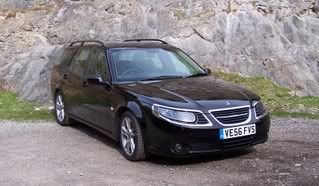 One of the most satisfying cars of the year was a
Saab 9-5 estate Aero HOT
. There was nothing to suggest that it would be any good, the prospect of a powerful front-wheel drive car with a large 4-cylinder engine was not particularly mouth-watering. On the road any misgivings soon disappeared; the driving position took a lot of fine tuning and the steering wheel wasn't nice to hold on a long drive. When driving it those failings faded into the background. There was a solidity to everything about the Aero; even the ride, which was firm but never uncomfortable. The linear, predictable and utterly dependable response of the steering, brakes and even the turbocharged engine offered tremendous assurance. There was no doubt that the 9-5 would do whatever was asked of it. The only worry was the frequency with which the traction and stability control intervened. Even on a perfectly dry road a moderately energetic left-right-left flick around a roundabout had the warning light coming on - at least the traction control is subtle in its behaviour rather than suddenly cutting power.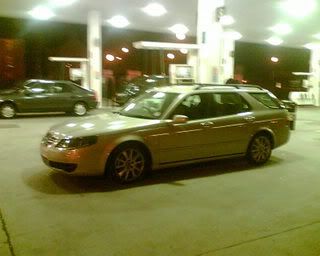 While I had the Saab Aero I drove another 9-5 estate; a
2.3 BioPower
, which runs on E85 bio ethanol or normal unleaded petrol. The idea is that, by running on a fuel derived from growing plants (E85 is bio ethanol plus 15% unleaded petrol), the BioPower will reduce the quantity of carbon dioxide released into the atmosphere. The engine produces more power when running on E85 - a difference you can feel - but to take advantage of the benefits you need to live near a petrol station that sells E85 and there aren't many yet. The penalty is that fuel consumption on E85 is somewhat higher and the small tax break on the fuel does not cover the difference. I was slightly saddened to find that the BioPower was softer in its steering response and yet no more comfortable. The differences under the skin may be small but they add up to a big difference on the road. When you take away the power boost from the bio ethanol and the 9-5 BioPower felt slightly disappointing.
To be continued ...