Final installment, a Honda "soft roader" and Peugeot van.
There was one more new car
Honda CR-V 2.0 i-VETEC
which was almost entirely unremarkable. Honda did an impressive job making the CR-V feel car-like. I remember the original CR-V felt much more cumbersome. Honda have made good automatic transmissions for years and the one fitted to the CR-V was better than any other I've encountered. Most of the time there was no sensation of shifting gears and it always seemed to be in the right gear. What a shame Honda decided to spoil things with an awful, stiff and counter-intuitive selector. Normally when I evaluate a car with automatic transmission I start by leaving them in Drive to see how well they cope as most people will use them. I also like to try any manual over-ride or means of holding gears as, under some circumstances, this gives better results. Just moving the CR-V's selector from Park to Drive was enought to put me off using the selector any more than necessary. I had thought Honda would standardise the Tiptronic-style selector, first seen on the NSX and currently in use on the Accord.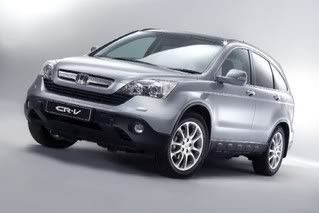 Finally, a house move this year meant hiring a
Peugeot Boxer
van. It did a perfectly acceptable job although the arrangements for changing gear took some getting used to. Every other gear lever I have ever encountered has moved in a gate that involves forward, backward, left and right movements. In the Boxer, however, the lever was at an unusual angle so that all the movements were diagonal. It never caused me any problems but you have to wonder why, when the conventional gate has worked so well for so long, Peugeot felt the need to change it.
This year was a little disappointing but it was interesting to see that I drove exactly the same number of cars in 2007 as I did in 2006. New cars arrived at a rate of less than one a month, which suggests a lack of effort on my part. I must try harder in 2008.
The End