Today at the NAIAS (North American International Auto Show), in Detroit, Mazda pulled the covers off a new rotary-engined design study and an updated version of the Mazda RX8. The Furai concept car is intended to celebrate 40-years of Mazda's rotary-engined sports cars (going back to the 1967 Cosmo) and Mazda's motor sport heritage.
The Furai is not intended to race, although it has the chassis of a Courage racing car, nor will it go into production – even as a limited run supercar. What it does do is provide a suitable canvas on which Mazda's designers created interesting shapes and unusual proportions. Some of the visual themes in the Furai will end up – toned down for production – on Mazdas people can buy. Technologically it makes a nod towards future possibilities; it has a 3-rotor Wankel rotary engine which is tuned to run on E100 bio-ethanol.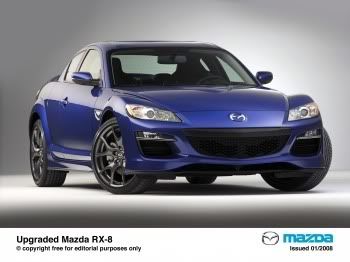 The updated RX8 has redesigned bumpers, including new headlamps and LED tail lamps. The dashboard is revised. Under the skin the body has been braced to improve rigidity, the rear suspension geometry has been altered to improve handling. The gearing has been lowered to improve acceleration. It seems like quite a modest series of updates for a model that is (I think) nearly 5-years old.