The original MX5 of 1989 pretty much single-handedly revived interest in the open 2-seat sports car. British Leland ceased production of the MGB in 1980 and the closest thing to a mass-market roadster was the Reliant Scimitar SS1, launched in 1984. Angular styling and odd proportions robbed the Scimitar of mass market appeal (although I think it looks quite smart). Perhaps affordable mid-engined cars in the mould of the Fiat X1/9 and Toyota MR2 should have assumed the role of the popular sports car but it doesn't seem to have happened. Instead the majority of modern roadsters have adopted the traditional front-engined rear-wheel drive layout.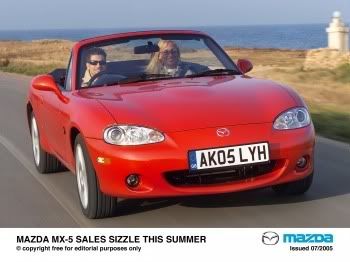 It was 9 years before the MX5 was updated, which must say something for how right it was. The second generation MX5 was received with nearly as much enthusiasm as the first. Although I never drove the original MX5 I was keen to try the second one when the opportunity presented itself. That opportunity coincided with the chance to drive 2 other roadsters, the Honda S2000 and the Vauxhall VX220 turbo (which I will return to); it seemed sensible to use the Mazda as a yardstick.
Trying to describe the MX5 is difficult; it was an appealing and light-hearted car. It enjoyed that trait unique to the best Japanese cars of being light and easy to drive without being vague or sloppy. As a result it felt good and yet it is nearly impossible to describe any single aspect. That is probably because there is nothing about the steering, the engine, the gearbox or the ride that is non-linear in behaviour. I'm sure it is the lack of exaggerated response that makes the MX5 such a nice car to drive. For everyone else the smart styling and Japanese reliability mean there is no reason not to buy the sports car you always promised yourself.