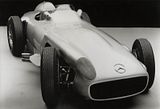 Almost every day I email my friend Si and we come up with a 'Random Car of the Day' to discuss. Today's offering was the Mercedes-Benz W196. The exhaust note I heard at Goodwood still hasn't faded from my memory. In fact the straight-eight engine sounded so amazing it made me wish that someone would build a modern inline eight. Sadly, the packaging and engineering challenges posed by this layout make it unlikely that anyone will revive the concept.
If I were wealthy enough I would build a Caterham-style car with a straight-eight; probably built up from a couple of four-cylinder motor bike engines. The engineering would take a lot of working out and it might not be the fastest or best car of its type but it would be all mine. I'd paint it silver with matt black, cycle-type mudguards, fit aero screens and find some tartain material similar to the cloth used in the 1950s Silver Arrows - a bit naff, maybe, but intended as a tribute to a racing car I admire.
So there you go; today, in my mind, I'm wearing goggles and a leather flying cap whilst blaring down deserted roads with the sound of eight tiny cylinders ringing in my ears.