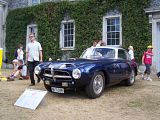 A what? A Pegaso; an obscure Spanish sports car from the 1950s, designed by a Spaniard who used to work for Alfa Romeo and built by a truck manufacturer.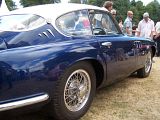 Under the skin it is very similar to the Grand Prix cars of its day. The engine was a small capacity V8 with two, gear-driven overhead camshafts on each bank of cylinders. Depending on the customer wanted it could have single or multiple carburettors with the option of supercharging too. Power outputs ranged from175 to 300bhp. Drive went to a rear-mounted, five-speed gearbox (no synchromesh) with a back-to-front change pattern.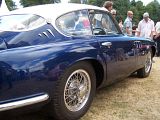 It used a chassis of square tubes. Front suspension by torsion bars and wishbones. The steering linkage has been described as complicated; but the same could be said of many cars too new for a solid front axle and too old for rack and pinion. For the time de-Dion rear suspension was fairly normal. However, Pegaso used a back-to-front layout with a curved de-Dion tube that passed over the propeller shaft, in front of the gearbox. A pair of substantial radius arms attached to a single pivot point at the back of the gearbox casing provided location.
Although a low-volume product (about 84 Z102s are estimated to have been built) they were apparently assembled to very high standards. The work was done by apprentices, learning their craft and working in surgically-clean conditions.
The Pegaso is the sort of car that some people write about in hushed and reverential tones (if that is possible). Few people have ever seen one, fewer still have driven one but it was interesting that this car received very little attention from the Goodwood crowds. The company never attained the fame of its Italian rivals and the attempt to revive the brand in the 1990s amounted to nothing. It probably doesn't help that the standard coachwork isn't very eye-catching; then again some of the special bodies, whilst flamboyant, weren't exactly beautiful.
Even so, it was great to see another car that I'd only ever read about. Where else but Goodwood was that going to happen?