It is a rare treat to see Mercedes racing cars in action. One of the biggest treats was to hear the sound of the gear-driven supercharger on the two SSK models driven up the hill.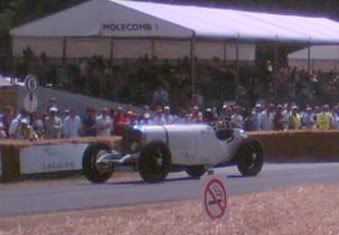 I had heard about the high-pitched sound but never previously experienced it. As noises go it is certainly piercing, produced by the straight-cut gears that engage the supercharger when the driver pushes the throttle pedal to the greatest extent of its travel.
The incredible Mercedes-Benz Grand Prix cars of the 1930s were notable by their absence this year (or, if they were there, I missed seeing them).
Instead there was a 1950s W163, less dramatic than the mighty, supercharged eight and twelve-cylinder cars of the pre-war years but possibly more brilliant in their design.
Also present was one of the two 300SLR 'Ulenhaut' coupés. It was a development of the open 300SLR that famously won the Mille Miglia. However the disaster at the 1955 Le Mans 24-hour meant that the closed SLR was never driven in competition. What I had forgotten, although I have seen 300SLRs in action at Goodwood before, is just how good the straight-eight engine sounds.