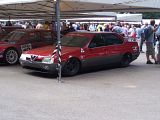 What we have here is not an Alfa Romeo 164. True, it looks like a 164 but I'm pretty sure that only a few components are interchangeable with the car you could buy. According to the internet it is effectively a Brabham F1 car with lightweight body panels to make it look like a production car. Under the skin is a V10 engine of 3.5-litres with 605bhp at 12,100rpm. The engine is mounted where the back seats would be and drives through a six-speed transaxle.
It was conceived for a race series that never took off, but which was intended to support the Formula 1 calendar like the earlier BMW M1 Pro Car series. The theory was that manufacturers would use similar mechanical parts to F1 cars but with bodywork taken from the production car range. However, there was little support from the manufacturers and the series was all but forgotten.
This is another car I remember reading about in one of the many books I either owned or borrowed from the local library. At the time I remember being fascinated by the idea of a car that looked like a saloon but with the performance and handling of a racing car. The fact that a car with such a highly-tuned racing engine would be all but impossible to drive on the road completely escaped me at the time.
Sadly, I didn't get to hear the Alfa run or see it in action but it is nice to know that it still exists.