I was lucky enough to go to the Goodwood Festival of Speed this weekend just gone. It is probably the only place where you'll find so many high value, rare and unusual cars together. This year there were several cars that I'd admired which I'd never seen before.
One of those was the Ferrari Pinin concept. This was a design study for a four-door Ferrari to celebrate Pininfarina's 50th anniversary in 1980. It was once suggested as a possible replacement for the Ferrari 400 GT.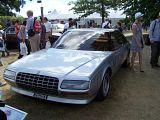 From the pictures I saw it looked like the most elegant four-door saloon ever built. Up close it was just as stunning as I imagined; although four days exposure to dust and crowds probably did nothing for the car's condition.
(Copyright Wouter Melissen)
It does look a bit dated now although the exterior styling has probably stood the test of time better than the interior. Unfortunately I couldn't take any interior photos but it was very much of its time.
I just wish Ferrari could build cars as stunningly elegant as this today.